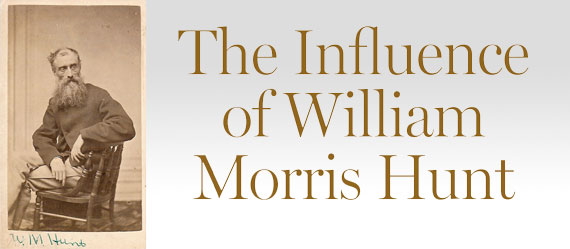 by Erik Brockett


ABOVE:
Fig. 1: Photograph of William Morris Hunt.
Courtesy of Brock & Co., Carlisle, Mass.


One of the most important American artists of the second half of the nineteenth century, William Morris Hunt (1824-1879) transmitted his enthusiasm for the aesthetic ideals he espoused through rhetoric, instruction, and essay. His intent was to advance the progress of visual art in the United States and abroad. Born in Brattleboro, Vermont, to a family with substantial landholdings, Hunt (Fig. 1) displayed an interest in art at an early age and received drawing lessons in New Haven, Connecticut, where the family moved following his father's death. In 1840, following preparatory study in Cambridge, Massachusetts, Hunt enrolled in Harvard College from which he was suspended several times for being "too fond of amusement."1 Although he would later be awarded an honorary degree, he left in his junior year to travel in Europe with his mother and siblings. In Rome he studied sculpture with Henry Kirke Brown (1814-1886) and in 1845 attended the Royal Academy in Düsseldorf. Finding the training inflexible, however, he left after several months and traveled to Paris, where, in 1847, he entered the atelier of the academic painter Thomas Couture (1815-1879) and worked with him until 1852. Hunt's focus shifted from sculpture to painting around the time he created his Profile of Couture, 1848 (Fig. 2) whose confident modeling reflects a considerable understanding of relief. Under Couture, Hunt developed a technique of working directly on canvas in a broad, painterly style, without making preliminary drawings.


Fig. 2: Profile of Couture, 1848. Bronze, 9-1/4 x 7-1/2 inches. Signed lower right with the artist's monogrammed initials: "WMH" and titled and dated at lower center: "T. COUTURE" / "1848." Courtesy of Brock & Co., Carlisle, Mass.


Fig. 3: Interior, Family Group, ca. 1861. Oil on canvas, 8-1/4 x 9-1/2 inches. Inscribed on verso: "S.G. Ward from W. Hunt." Courtesy of Spanierman Gallery, LLC, New York.


In 1850 Hunt became familiar with the work of the Barbizon School painter Jean-François Millet (1814-1875) who disdained the highly finished, detailed studio approach embraced by the academy, in favor of forceful simplicity and economy of detail. Hunt studied with Millet in 1853 and maintained a lasting friendship with the painter that influenced his own painting and artistic theories. Although Hunt's portrait commissions owe more to the influence of Couture, his espousal of Millet's principles are clearly seen in his genre scenes and landscapes, which rely on tone, color, and composition, rather than precise documentation. Hunt purchased paintings by Millet and his Barbizon contemporaries, encouraging his American acquaintances to do the same. Through Hunt, Boston collectors assembled the finest group of modern French painting outside that country. Spending two years in Barbizon, where he was joined by a small group of American artists, Hunt produced a number of noted genre scenes and exhibited three times at the Paris Salon.

He returned to Boston in 1855 and soon after married the socially prominent Louisa Perkins. In the same year, he exhibited at the Boston Athenaeum and the National Academy of Design in New York and joined the Boston Art Club. In the autumn of 1856 he settled with his wife in Newport, Rhode Island, where he established himself as a society portrait painter; executed a series of lithographs after his paintings; and began to give art lessons. Among his students were John LaFarge (1835-1910), William (1842-1910) and Henry (1843-1916) James, and Sarah Wyman Whitman (1842- 1904). Returning to Boston in 1862, Hunt took a space in the recently completed Studio Building on the corner of Bromfield and Tremont Streets, which he maintained until 1864, after which he relocated to a studio in the Mercantile Building on Summer Street. During these years, in which his renown as a portrait painter steadily rose, he continued to paint figure studies like his Interior, Family Group (Fig. 3).


Fig. 4: Snow Shoveler Under a Lamp Post, ca. 1870. Charcoal on cream laid paper, 11-1/2 x 8-1/2 inches. Signed lower left with the artist's monogrammed initials: "WMH." Courtesy of Childs Gallery, Boston.


Fig. 5: The Promised Land (The Ferry to Appledore), ca. 1879. Oil on canvas, 18-1/2 x 24 inches. Signed lower right with the artist's monogrammed initials: "WMH." Courtesy of Spanierman Gallery, LLC, New York.


In Boston, Hunt did much to further the acceptance of the plein-air style associated with the Barbizon School and in doing so, helped pave the way for the acceptance of impressionism. His advocacy of the work of Millet, Gustave Courbet (1828-1885), and James McNeill Whistler (1834 -1903) set him in opposition to those who embraced the highly detailed representations of America's academies and the Hudson River School tradition. In 1866, Hunt joined with Elihu Vedder (1836-1923), Albion Harris Bicknell (1835-1915), Edward C. Cabot (1818-1901), and Martin Brimmer (1830-1896), collector and cofounder of Boston's Museum of Fine Arts, to form the Allston Club. Over half of the works shown at their first exhibition were by French artists.

Between 1866 and 1868, Hunt was again in Europe, where he visited his friend Millet. In Paris, Hunt discovered the medium of charcoal and used it to produce atmospheric landscape studies (Fig. 4), later exhibiting his charcoal drawings at the National Academy of Design and the Boston Art Club. Hunt claimed to have been the first to introduce charcoal drawing into America; certainly it played an important role in the classes that he began to offer in Boston during the winter of 1868. His students were women, primarily from affluent backgrounds. Although he was criticized for it, Hunt firmly believed in the emancipation of women and offered his female students candid, unsparing assessments of their work. In 1871, when Helen Mary Knowlton (1832-1918) took over the teaching from Hunt, she continued to teach according to his methods. Knowlton also did much to disseminate his artistic opinions: she published two volumes of his "Talks on Art" (in 1875 and 1883), in which his theories were set forth, and wrote his biography in 1899.3 Among his many successful students were Maria Oakey Dewing (1845-1927), Elizabeth Boot Duveneck (1846-1888), and Ellen Day Hale (1855-1940). Included in a group of Boston artists who felt Hunt's influence and, although they did not study with him, were attracted to similar subjects, which they captured with painterly technique are George Fuller (1822-1884), Thomas Robinson (1835-1888), J. Foxcroft Cole (1837-1892), John Joseph Enneking (1841-1916), and J. Appleton Brown (1844-1902).4


Fig. 6: Rapids Above Niagara Falls, 1878. Pastel on paper on board, 11-1/2 x 19-1/2 inches. Courtesy of Brock & Co., Carlisle, Mass.


The Boston fire of 1872 destroyed Hunt's Mercantile Building studio and its contents, which included many of his pictures and works by French Barbizon masters he had collected. Hunt subsequently focused almost exclusively on landscapes that demonstrated looser brushwork and brighter colors (Fig. 5), in contrast to the moody pallete used in his earlier outdoor work. Early in the summer of 1878, Hunt visited Niagara Falls, where he created a series of views in oil and pastel that captured the area's natural beauty with a vigor and simplicity not seen in his earlier landscape compositions (Fig. 6). It was here that he received a commission to paint two large murals for the state capitol in Albany, New York. Regarded as the best examples of American mural painting up to that time, they did much to inspire the beginning of the mural movement in this country, but dampness in the stone on which they were painted soon resulted in their degeneration. His drowning while visiting friends Celia and Levi Thaxter on Appledore Island, one of the Isle of Shoals, New Hampshire, in 1879, was reportedly suicide.


---

Prior to joining the staff of Antiques & Fine Art Magazine, Erik Brockett spent over a decade researching and selling fine art through commercial galleries and at auction.


---

1. Trevor J. Fairbrother, The Bostonians: Painters of an Elegant Age, 1870-1930, (Boston: Northeastern University Press, 1986), 215.

2. Sally Webster, William Morris Hunt, 1824-1879 (Cambridge, England; New York: Cambridge University Press, 1991), 12-13.

3. Erica Hirshler, A Studio of Her Own: Boston Women Artists, 1870-1940 (Boston: MFA Publications, 2001), 26-27.

4. Trevor J. Fairbrother, The Bostonians: Painters of an Elegant Age, 1870-1930, (Boston: Northeastern University Press, 1986), 35.