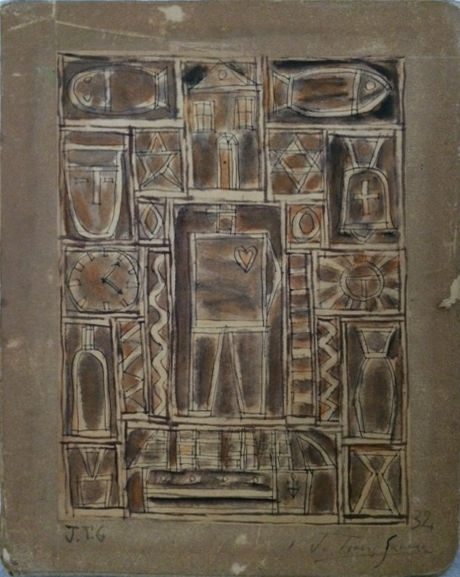 PROVENANCE: Porto Alegre, Brazil- Sold by Cecilia de Torres Ltd.; to Ricardo Alves.



Torres Garcia's constructivism arises from the influence of Catalan modernist movement. His picture theory is to involve the public in the work, based on the premise that the artist has powers that share with viewers the Uruguayan painter Joaquin Torres Garcia, joined the School of Fine Arts in Barcelona in 1892, receiving influence of the movement modernist Catalan. Was friends with Picasso and Gaudi, even helped to build some windows. But it is in the windows of the restoration of the cathedral of Palma de Mallorca, to do with Gaudi design using geometric and spot colors. After several changes of residence, he moved to Madrid, where he created a group of artists building.
Contemporary Painting "Montevideo" In 1934, upon his return to Uruguay, he has dedicated to the dissemination of his work, seeking the creation of a school of constructive art, to change the structures of the performing arts, which took precedence in Uruguay and Latin. Torres Garcia becomes important in America and in the development of the arts. Create a new plastic, but with their universal Americanists. The realization of universalist proposal Torres, required to incorporate a new art aesthetic and philosophical ideas of constructivism, but giving rise to the archetypes of the Hispanic cultures, a synthesis of the modern and prehistoric. It seeks to reclaim the essential aspects of constructive art and pre-Columbian American art, as the sense of universality, geometric forms, rhythms sustained the stone walls, the harmonious integration between monuments and surrounding environment. It aims at the realization of a contemporary monumental art, associated with architecture, that the increased expression of constructive order, which is a core of expressive possibilities are limited by the use of the easel. Torres Garcia and school constructivist theory of archetypal symbols Torres Garcia plasma acting on the observer's unconscious trying to modify your destination, you will be greeted with greater intensity, as the viewer is stripped of their inhibitions. Considers that the artist possesses spiritual attributes, and try to involve the observer in the universe of serenity. It is a mystical power of convocation, which serves as the collective unconscious subliminal message.